How Do I Get Involved?
First Presbyterian - Boyne City is not a place for spectators. It is a place for team members. Whether you are a five-year old child, a ninety-five year old grandmother, a busy mom, or a businessman with big responsibilities, we want you to be a part of our vibrant church community. Here is how you can learn, serve, and grow at FPBC.
Lifetree Café

Lifetree Café draws a diverse group of people together to engage in conversations about life and faith. Ministry opportunities include the Friendship Team, Seed People, and Hosts. For more details, contact Julie Hasse at Lifetree@fpboyne.org.
Good Neighbors Food Pantry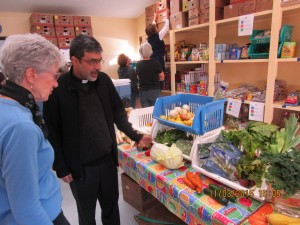 Our Out on the Limb Project is coordinated by Peg Faulman. Volunteers from FPBC work at the pantry the third Tuesday of each month.
Mission Team
The MIssion Team coordinates a monthly mission project that meets local, regional, or international needs.
Grandvue Medical Care Facility and McLaren Hospital Chaplaincies
Boyne Area Free Clinic
Boyne Area Food Pantries
Theological Education Fund
One Great Hour of Sharing
Malawi Mission
Pentecost Offering
Nehemiah and Mary Margaret House
CROP Walk
Peace Offering
Joy Offering
Operation Christmas Child
Presbytery of Mackinac Mission
Ploughman Scholarship
Fellowship Team
This team exists for the care and fellowship of the congregation. Activities are often associated with food. Whether for fun, care given to the bereaved, or monetary purposes for various church activities, we enjoy working as a team to the service of all.
Area of Responsibility:
Weekly coffee hours (and scheduling thereof)

Monthly potluck dinners

Lenten gatherings

Church picnic at Whiting Park

Honoring of June graduates

Chili Cook-Off

Funeral Luncheons

Arranged for one get together event

Halloween Trunk or Treat
We encourage and welcome more members to our team. Meetings are the fourth Wednesday of the month at 2 p.m.

Links of Interest: