WELCOME:
The rich heritage of First Presbyterian Church - Boyne City and her deep commitment to discipleship is the foundation on which we are built and which enables us to step boldly into the future.
We joyfully invite you to share your faith journey with us as we seek to open the doors of our hearts to God's will for our lives and our community.
Travel with us as we celebrate God's steadfast faithfulness through worship and through our actions as we live out our faith.
ANNOUNCEMENTS
: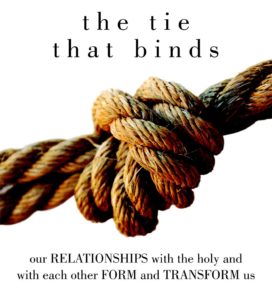 "Above all, clothe yourselves with love, which binds everything together in perfect harmony. And let the peace of Christ rule in your hearts, to which indeed you were called in the one body. And be thankful." - Col 3: 14-15
Relationships form us. One of the most treasured hymns of Christianity in the last century was "Blest Be the Tie That Binds." As we gather for worship in this series, we will be invited to consider how our relationships with the Holy and with each other form and transform us. And we will affirm the power of God's presence in our worshiping community to inspire us to "go and do likewise" in relationship to the world.
Compilation © 2015 www.worshipdesignstudio.com
Sunday, April 23
FORMED
Baptism - A Tie That Binds
As we begin the series, we affirm that God is the Tie That Binds. We have been created by God, gifted by God, given life by God–formed by God's hand like clay by the potter. We open ourselves to be re-shaped when necessary and we celebrate our common connections as God's children. Blest be the tie that binds!
Sunday, April 30
WOVEN
Discovering Delight in the Wonder of Creation
Rev. Dr. Elizabeth Broschart
Our worship this morning explores the beautiful Hebrew poem of Genesis 1 in which God creates the world and invites us to be stewards of it. We are woven together with all of creation and God desires harmony for all. When difficult things happen for anyone or anything of creation, we are all affected. The tie that binds calls us to care for all.
Sunday, May 7
POURED
Rev. Dr. Elizabeth Broschart
Jesus was God's love poured out for us. Jesus forgave again and again, modeling kindness and love in unmeasurable amounts–even before folks admitted they needed it! This morning we open ourselves to Christ's presence and answer the call to be his compassion poured out in the world, creating ties that bind us to one another in love
Sunday, May 14
Sunday, May 21
Rev. Dr. Elizabeth Broschart
Rev. Dr. Elizabeth Broschart
Rev. Dr. Elizabeth Broschart

SEEKING WORSHIP MUSICIAN:
First Presbyterian Church is seeking an experienced worship musician. The position requires the ability to play piano, keyboard and organ and willingness to accompany the choir as needed. Requires attendance at Sunday worship, special services such as Christmas Eve and Maundy Thursday as well as providing music for funeral, weddings, and other worship times. Choir rehearsal is Thursday at 6 p.m. The position includes two paid vacation weeks, with additional weeks to be negotiated. The position requires the ability to participate in music selection in conjunction with the pastor. Approximate commitment per week: 6-8 hours. If interested, please contact Pastor Beth at 231-582-7983 or submit a resume to FPBC Worship Musician, 401 S. Park St., Boyne City 49712.
Worship:
11 a.m. (September - May)
10 a.m. (June-July-August)
Address:
ONLINE GIVING:
Note: If you create an account, please verify your email address prior to making a donation as this is a security measure.
Links of Interest: